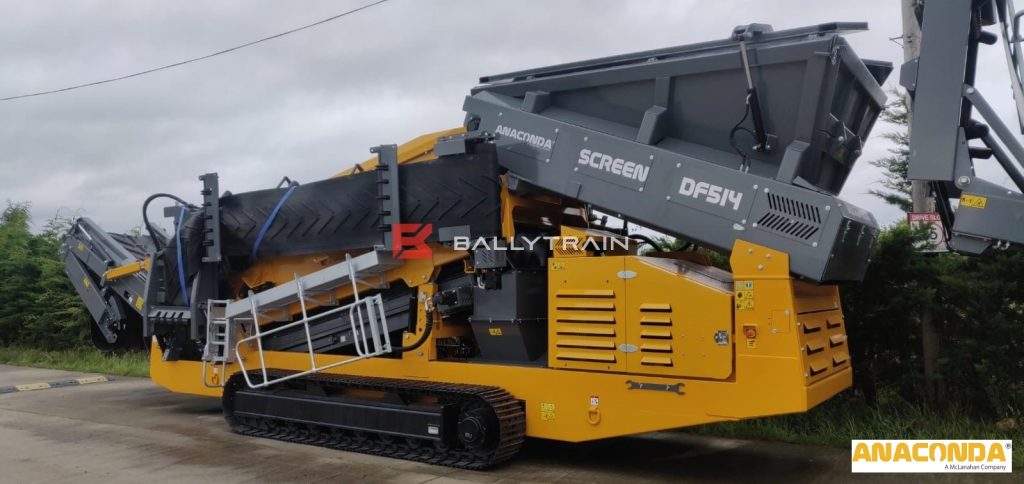 Anaconda DF514 Scalping Screen for sale, New Scalper Screener, Fitted with CAT Engine (Tier 4i). 14FT x 5FT (4.27M x 1.52M) Twin Deck 3 way split Screener, Mesh currently installed in this machine. Producing 3 x screened products and will screen up to 350 Tonnes per hour. This screener comes with a large hopper + a steel apron Feeder. The DF514 scalping screen is a versatile, robust and highly productive unit Designed to handle a wide variety of applications. Fitted with steel apron feeder, the DF514 is user friendly and easy to transport on and off site. The DF514 can offer two or three way separation of material.
The DF514 is a Medium sized mobile screener suitable for tonnages up to 350TPH. Anacond's promise of quality products is once again demonstrated in this product which is suitable in many applications including Scalping Quarry Rock, Crusher Run, C&D, Coal, Topsoil and Compost! Scalper Screen for sale uk, New scalping screen for sale
Click here to see video of the Anaconda DF514 Scalping screen Working!!
If you require more information on the screener please click here to contact us.
FEATURES AND BENEFITS
HIGH PERFORMANCE 14' X 5' (4.27M X 1.52M) 2 BEARING SCREEN BOX
HYDRAULIC FOLDING HOPPER SIDES AS STANDARD
VARIABLE SPEED 4 PLY BELT FEEDER WITH IMPACT BED
VARIABLE SPEED ON ALL DISCHARGE CONVEYORS
HYDRAULIC RAISE SCREEN-BOX TO FACILITATE MESH CHANCE
SCREEN ANGLE ADJUSTABLE BETWEEN 15-19º
SCREEN-BOX SAFETY WALKWAYS
EXTRA OPTIONS
SCREEN DECKS – MESH, BOFAR BAR, FINGER SCREENS OR PUNCH PLATES.
RADIO REMOTE CONTROL
OVERBAND MAGNET ON OVERSIZE CONVEYOR
Specifications
Make
Anaconda
Model
DF514 Scalping Screen
Availability
In Stock
Fuel
Diesel
Year Built
NEW
Screening Area
14ft x 5ft
Mobile
Yes
Photo Gallery
Email Enquiry about Anaconda DF514 Scalping Screen
Never Miss A Super Deal
Receive weekly special discounted machines and be automatically entered into our competitions. Sign up today:
AIRPORT PICKUPS
We can pick you up at Dublin or Belfast Airports to vist our site.
Learn More
LOGISTICS
We can deliver your machine to your door, anywhere in the world.
Learn More