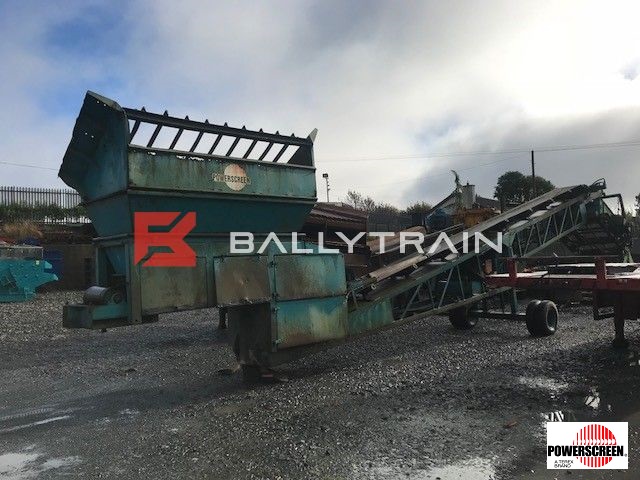 Powerscreen MK II Screener, Mobile Powerscreen MK II Screener on Axle Chassis and Standard 5th Wheel trucking pin. 6ft x 4ft  / 1.82m x 1.21m Double Deck Screen that will produce 3 x grades of screened material, mesh current fitted on top deck and no mesh on bottom deck. Grid installed onto Hopper, Main Conveyor belt in good condition & body clean. Fully Mobile on single axle chassis and standard 5th wheel trucking pin meaning it can be easily moved site with a standard truck or dolly. Ideal for working on Sand, Soil and many more materials. This Original Powerscreen MK 2 is ready to go work, tow able conveyor screen, Tow-able Top Soil Screener. Powerscreen Mark 2.
The MKll is a cost efficient mobile scalping and screening unit used extensively to screen material such as Sand & Gravel, Coal and Topsoil. The Powerscreen® MK II is a time proven entry level mobile screening unit that is portable, easy to setup and maintain. Ideal for smaller end users who require a affordable flexible product suitable for applications such as topsoil, coal, crushed stone, recycling, sand and gravel.
Features & Benefits
High capacity up to 150-200 tph (depending on feed size, mesh size & material type)
Maximum feed size 150mm
Feed hopper with reject grid
Steel mesh screen decks
Variable speed belt feeder
Maximum mobility with fifth wheel, jacking legs, transport wheels & brakes
Options available
Applications
Sand & gravel Top soil Processed ores
Blasted rock Composted materials Processed minerals
River rock Wood by-products
Get a quote on shipping to your nearest port by contacting us today. Selection of Crushers and screeners always in stock. Different sizes of mesh can be obtained and installed at extra cost.
Contact us for more information on this Powerscreen MK II and all other machinery we have in stock by clicking here.
You can view the YouTube video of this Powerscreen MK II in our yard here by clicking here.
Specifications
Make
Powerscreen
Model
MK II Screener
Availability
In Stock
Fuel
Diesel
Mobile
Yes
Photo Gallery
Email Enquiry about Powerscreen MK II Screener
Never Miss A Super Deal
Receive weekly special discounted machines and be automatically entered into our competitions. Sign up today:
AIRPORT PICKUPS
We can pick you up at Dublin or Belfast Airports to vist our site.
Learn More
LOGISTICS
We can deliver your machine to your door, anywhere in the world.
Learn More