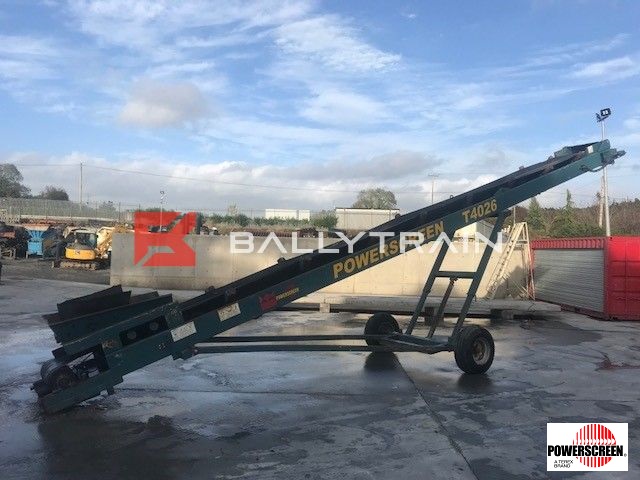 Powerscreen T4026 Mobile Conveyor for Sale, Mobile Conveyor on a Single axle chassis, 39 foot / 12m long with 635mm wide belt. Chute Installed and this conveyor can be worked at various work heights. Also Support system fitted for extra Strength. Ideal Conveyor for stock piling or transferring material from crusher to screener etc. Please inquire for more details on this Powerscreen T4026 Mobile Conveyor. We have a large selection of conveyors available at present. Powerscreen conveyor for sale
Shipping arranged worldwide by container packing and we can load numerous conveyors into one container if required.
Contact us for more information on this Powerscreen T4026  Conveyor and all other machinery we have in stock by clicking here.
You can view the YouTube video of this Powerscreen T4026 in our yard here by clicking here.
Specifications
Make
Powerscreen
Model
T4026 Conveyor
Availability
In Stock
Mobile
Yes
Photo Gallery
Email Enquiry about Powerscreen T4026 Mobile Conveyor
Never Miss A Super Deal
Receive weekly special discounted machines and be automatically entered into our competitions. Sign up today:
AIRPORT PICKUPS
We can pick you up at Dublin or Belfast Airports to vist our site.
Learn More
LOGISTICS
We can deliver your machine to your door, anywhere in the world.
Learn More