Sorry! This product has been sold. Try searching for something similar, or view all of our stock for Mobile Screeners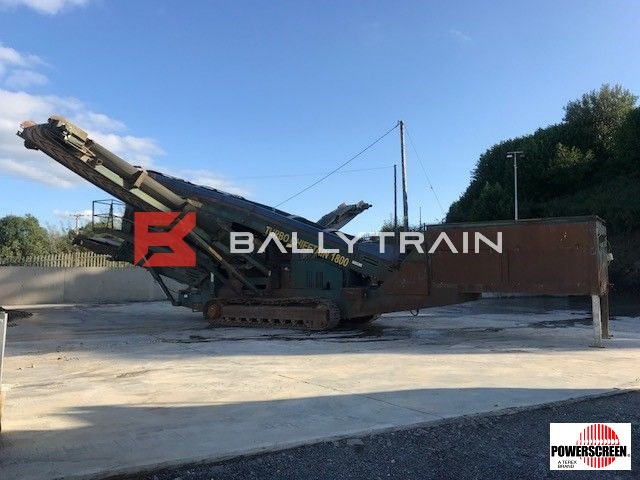 Powerscreen Turbo Chieftain 1800 Screener for sale, Powerscreen Turbo Chieftain 1800 Screener, Fitted with deutz engine. Heavy duty mobile screener with large output, Large 16ft x 5ft / 5m x 1.5m Twin deck screenbox, 3 way split screener producing 3 x screened products. Mesh currently installed on the top and bottom deck of the screener. All Belts in good condition and all fully hydraulic folding, Unit has track mounted Undercarriage. Catwalks all around screenbox for ease of serving.  Available immediately from stock and can be shipped worldwide if required. This Chieftain 1800 is in good condition with original Powerscreen paintwork as showin in the images below. Purchase this used 2 deck screener today for £27,000. Choice of 2 in stock.
Different sizes of mesh can be obtained and installed at extra cost, Please inquire for a quote to get the Powerscreen Turbo Chieftain 1800 shipped to your nearest port.
For more information on this Powerscreen Chieftain 1800 and all other machinery available please click here to contact us.
Also please see the YouTube video of the Powerscreen Chieftain 1800 Screener in our yard here at Ballytrain Plant by clicking here.
Specifications
Make
Powerscreen
Model
Turbo Chieftain 1800 Screener
Availability
Out of Stock
Fuel
Diesel
Screening Area
16ft x 5ft
Mobile
Yes
Photo Gallery
People viewing this product, also viewed
Never Miss A Super Deal
Receive weekly special discounted machines and be automatically entered into our competitions. Sign up today:
AIRPORT PICKUPS
We can pick you up at Dublin or Belfast Airports to vist our site.
Learn More
LOGISTICS
We can deliver your machine to your door, anywhere in the world.
Learn More