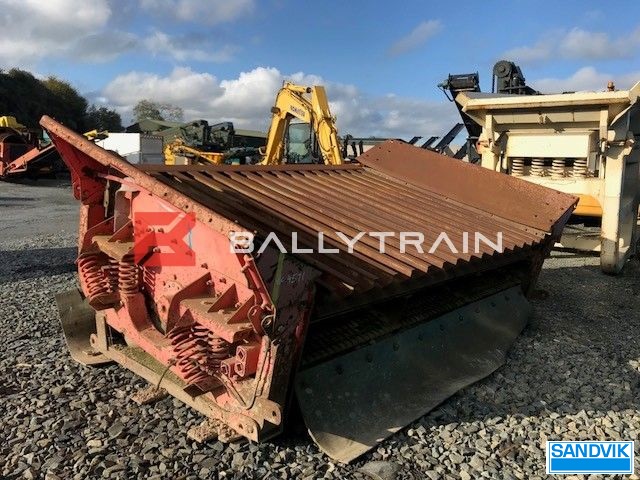 Sandvik Double Deck Livehead for sale, Heavy duty hydraulic Vibrating Livehead to suit Screener, Double deck vibrating livehead with Screenmesh installed on second deck, Heavy Bofar bars installed on top deck, suitable for feeding on large rock material before entering into Screen Hopper / feeder. Can be fitted on Sandvik QA330, QA331, QA340 and QA440 along with Extec 5000, 6000, S5, S7. Can also be used on other mobile screeners. This Double deck liverhead is complete with side Flairs and is in very good condition. This live head will produce 2 x grades of clean material for you and allow small fine material pass through into Screen hopper. Mesh size on second deck can be changed to required size at additional cost. This Livehead can work with any Screener on tracks or Wheeled, also suitable for installing into Static plant for screening off heavy burden, rough material, Concrete, Slabs etc. Ready for Installation. Please inquire for more details and pricing on transport/shipping to your site or port. Selection of Crushers and screeners always in stock. Purchase this hydraulic grid today for only £9,750
If you require more information on this Sandvik Double Deck Livehead and all other machinery available in stock click here to contact us.
Also please see the YouTube video of the Sandvik Hydraulic Vibrating Livehead in our yard here at Ballytrain Plant by clicking here.
Specifications
Make
Sandvik
Model
Double Deck Livehead
Availability
In Stock
Fuel
Hydraulic Driven
Price
£ 9,750
Mobile
No
Photo Gallery
Email Enquiry about Sandvik Double Deck Livehead £9,750
Never Miss A Super Deal
Receive weekly special discounted machines and be automatically entered into our competitions. Sign up today:
AIRPORT PICKUPS
We can pick you up at Dublin or Belfast Airports to vist our site.
Learn More
LOGISTICS
We can deliver your machine to your door, anywhere in the world.
Learn More